LiveJasmin and Chaturbate are two of the largest sites for webcam models and fans. They are both very different sites with their pros and cons, but which one is better? In this post, we will compare LiveJasmin vs. Chaturbate in several categories to determine who comes out on top as the best site for cam performers, viewers, and affiliates!
First, we'll look at how much traffic the two sites get and how much it costs to view models. Then we'll go into details for performers like how often you get paid and additional ways the platform helps you make money. Lastly, we'll talk about the affiliate programs for each site and see how they stack up.
Let's begin!
A brief introduction of LiveJasmin and Chaturbate
LiveJasmin: The Hottest Models Ever
LiveJasmin is one of the most popular adult websites on the internet. It started its activities in early November 2001, under the Jasmin.hu domain. The website is based in Luxembourg, but it reunites people worldwide, with some exceptions.
Unlike other similar websites, LiveJasmin brands itself as a classy, elegant website with more emphasis on glamour, erotic modeling than its competitors. It is one of the biggest platforms for webcam modeling, reuniting millions of models and users every day.
Although the platforms accept people of all gender identities, the most common performers are women. It is still possible to find a good number of male and trans performers, and couples are also allowed to perform on the website.
Along with Chaturbate and BongaCams, they're currently the top three websites for webcam modeling on the internet. It has been awarded numerous times in the AVN awards and other ceremonies within the adult industry.
Chaturbate: Most Popular
Chaturbate is one of the leading camming websites on the internet. It has everything any model could ask for, including excellent traffic, useful features, and high revenue share. It has a great community, and it's possible to see new models getting started every day.
Part of Chaturbate's charm comes from its old-schooled design. Most websites have evolved and changed their layout over time, but Chaturbate has stayed the same for a while, and people seem to like it the way it is. It's easy to navigate through the tabs available (featured, female, male, couple, and trans), but viewers can search for more specific things thanks to the search bar. Chaturbate is also mobile-friendly.
Chaturbate allows models to make money out of their cam shows and other things, like selling media and exclusive content. The website uses a token-based system, which means all the purchases made here will be completed with tokens.
Click here to sign up for Chaturbate!
How much traffic LiveJasmin and Chaturbate get
If you're a cam model or just interested in the cam industry, then you've heard of LiveJasmin and Chaturbate. These sites are two of the most popular live sex chat websites on the internet today with so many users globally.
But how do they compare with each other? Let's look at the numbers now!
LiveJasmin traffic stats
| | |
| --- | --- |
| Global Rank (All Websites) | 325th |
| Adult Website Rank | 27th |
| Total Monthly Traffic (Estimated) | 152.90 Million Per Month |
| Top 5 Visitor Countries | United States, Germany, France, United Kingdom, Italy |
Numbers from SimilarWeb, March 2021 Overview
Chaturbate traffic stats
| | |
| --- | --- |
| Global Rank (All Websites) | 64th |
| Adult Website Rank | 6th |
| Total Traffic (Estimated | 300.4 Million Per Month |
| Top 5 Countries | United States, Germany, United Kingdom, France, Canada |
Numbers from SimilarWeb, February 2021 Overview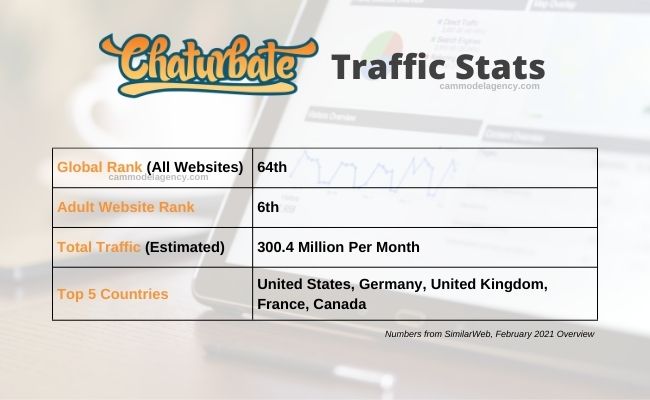 Token cost/pay per hour on LiveJasmin and Chaturbate
As a viewer, you're probably curious how much it costs to purchase tokens or how much pay-per-view is on LiveJasmin or Chaturbate. In this section, we'll talk about buying tokens or watching your favorite perform live for your viewing pleasure.
LiveJasmin Credit Costs
| Credits | Costs | Cost/Credit |
| --- | --- | --- |
| 17.99 | $24.99 | $1.390/Credit |
| 27.99 | $35.99 | $1.286/Credit |
| 67.99 | $79.99 | $1.176/Credit |
| 97.99 | $112.99 | $1.153/Credit |
| 157.99 | $178.99 | $1.133/Credit |
LiveJasmin does not use a token system, unlike its primary competitors. Although the main page allows you to see multiple models doing public shows, the truth is that the real income comes from private and VIP shows.
Public shows are the main way you have to attract clients to hire you to perform private shows. VIP shows allow you to earn more money than regular shows. According to the model, the prices are different, although there are only three prices when it comes to Fanclub subscriptions – an extra way to make money on LiveJasmin.
Chaturbate token costs
1 token on Chaturbate costs between $0.08 and $0.11, depending on how many you buy at once.
| Tokens | Cost | Cost Per Token |
| --- | --- | --- |
| 100 | $10.99 | $0.110 |
| 200 | $20.99 | $0.105 |
| 500 | $44.99 | $0.090 |
| 750 | $62.99 | $0.084 |
| 1000 | $79.99 | $0.080 |
| 1255 | $99.99 | $0.080 |
| 2025 | $159.99 | $0.080 |
These are the most up-to-date Chaturbate token prices.
The best parts of LiveJasmin and Chaturbate for models
As an adult webcam model, you're likely to find yourself bouncing between various cam sites. With so many options available, it can be challenging to figure out which site is best for you. There are many factors that may influence your decision when deciding on the best site for you, including payment structures, audience demographics, and more. In this section, we'll compare two major cam sites: LiveJasmin and Chaturbate; highlighting some of their pros and cons as well as what makes each great in its own way.
Getting paid on LiveJasmin and Chaturbate
The camming industry is a booming business. Millions of people worldwide are tuning in every day to watch live feeds on sites like LiveJasmin and Chaturbate. The money made by webcam models has been increasing steadily over the years. In this section, we'll talk about how much you're going to get paid and how often you can get paid on each website.
How models get paid on LiveJasmin
Models get paid on LiveJasmin in two different periods. Months are divided into two periods – the first one lasts from the 1st to the 15th, and the second starts from the 16th and lasts until the month finishes. However, you can only cash out once you've accumulated $100.
Still, models can request a payout withdrawal at any time. However, please note that you'll have to pay one percent of what you're trying to cash out. You can only use this feature if you have from $5 to $150.
You can request your money via Paxum, ePayService, WebMoney, and more options.
Payment methods available on Chaturbate
There are different payment options available on Chaturbate, including direct deposits, Paxum, checks, and wire transfers. The minimum payout on the website is $50.
The various payout methods and fees look like this:
Check Sent By Mail (No Processing Fee)
Payment by ePayService (0.6% Processor Fee, or $0.06 on every $10.00) *NEW*
Payment by ePayments (No Processing Fee)
Payment by Direct Deposit (No Processing Fee, USA Only)
Check Sent By Fed Ex ($40.00 Processing Fee in the US, $80.00 International)
Payment by Wire ($45.00 Processing Fee)
Payment by Paxum ($0.50 Processing Fee)
Payment by COSMO Pay ($1.00 Processing Fee)
Payment by Bitcoin ($3.00 Processing Transaction Fee)
Public performances on LiveJasmin and Chaturbate
Performing for the public is a great way to build up your following if the platform allows it. Here we'll talk about whether LiveJasmin and Chaturbate allow performing for the public and what to expect when you do.

LiveJasmin public shows
Public shows in LiveJasmin are free. These shows are the main way you have to earn customers. Based on your popularity, you will be featured on LiveJasmin's landing page. Most of the people featured there are women, but it's also possible to find male models in this area.
Anyone can access public shows, except if you have set up your preferences to "members only." If that's the case, then only people that are already registered on LiveJasmin will be able to see your shows. You won't earn anything from public shows, however.
Even if you cannot earn money from Public Shows, you are allowed to "cam-split." Therefore, it is possible to stream on two websites simultaneously, making it possible to earn more customers one way or another. However, please note that this feature requires a good internet connection not to suffer delays.
Hence, you can assume that the main purpose of public shows is to promote your private services.
Chaturbate public shows
Most of the shows performers do on Chaturbate are public because they can take advantage of the tip menus, goals, and games. This makes them able to tease their followers, which makes them tip more. Here's the explanation of everything you can do to make your public shows more interesting:
Tip Goals: Tip goals are the most common way of earning in public shows. You can configure apps and bots to help you with this. When the goal is reached, you perform something.
Tipping games: Tipping games can be configured with all the apps and bots available on the website. There are different games available, and they all make the overall experience more fun and exciting. Chaturbate has an app store available; there you can see all the games you can use in your shows.
Tip Menus: If you want to let your viewers know what you're willing to do on cam, you can set up a tip menu. This way, viewers will know what you're going to do for a particular amount of tips.
Interactive Sex Toys: Chaturbate works with some of the largest interactive sex toy manufacturers, like LoveSense. Interactive sex toys react to the sound of the tips, and they can be set up, so the more the customer's tips, the more intense the vibrations will be.
Private performances on LiveJasmin and Chaturbate
Doing private shows is a great way to earn some serious money. Here we'll talk about whether LiveJasmin and Chaturbate allow more intimate performances and what to expect when you do.

LiveJasmin private shows
Private shows are the main way you have to earn money via LiveJasmin. As you attract customers to your public shows, people will eventually request you to perform privately for them. They will get charged by the minute.
Still, you should know that you will only earn between thirty and sixty percent of what you make in your shows through your payouts. You'll have to escalate between tiers until you can reach the maximum percentage.
Private shows last as much as you and the client agree. The client will get charged by the minute, according to the price you've set up.
Cam2Cam shows are also possible here. Hence, your client can turn the camera on so that you both can see each other and reciprocate the action. If you're having a hard time acquiring clients at first, it's completely normal. You can start performing on two websites at the same time so that you can acquire clients quickly.
Chaturbate private shows
Private shows are charged per minute. Models and clients negotiate the show before it starts, so everyone knows what to expect. It is highly recommended to list on your profile all the things you offer for private shows.
Also, keep in mind that people pay more for models that perform particular fetishes. Since most porn sites are full of vanilla stuff, fetish content is hard to find. Therefore, most clients are willing to pay high amounts to watch their favorite fetish.
Spy shows
People can spy on your private shows, and they are charged by the minute as well. The rates are slightly lower than regular customers because these viewers can't interact with you, but you'll still earn some extra money for each spy watching your show.
Making more money on LiveJasmin and Chaturbate
Apart from the typical private or public shows, a great platform will help you earn additional income. Extra pay could be hourly or monthly contests, an hourly rate, or other bonus incentives. Let's explore how LiveJasmin and Chaturbate hook you up to perform more often and make even more money.

Additional ways LiveJasmin models can make money
Fanclub subscriptions
Fanclub subscriptions consist of getting customers to pay a few twice per month to have access to exclusive content (videos, pictures). You can only choose between three price options: $4.99, $9.99, and $14.99.
However, please note that you only earn twenty-five percent of what you make every two weeks.
VibraToy
VibraToy works similarly to other interactive toys on different platforms. It allows models to earn extra money via interactive sex toys on their live streams. You'll earn extra credits per minute. Users can rotate or vibrate the toys by using their mouse.
LiveJasmin Mobile App
This app works similar to Snapchat, but you earn money directly from it. Users can:
Make voice or video calls. You will get paid by the minute.
See premium content. They will have to pay for a subscription to access it.
See stories. You can post pictures or videos that will last for 24 hours.
Additional ways Chaturbate pays models
Chaturbate runs an hourly contest for the models that are online. Every hour every day, Chaturbate pays out $10 to the most viewed model and $5 to the second most viewed model. It pays to be popular!
How it works is based on a points system. Every minute, the most viewed broadcaster earns 10 points, the 2nd earns 9, and so on. At the end of the hour, the winner receives $10. It's that easy!
Read on to the affiliate program section to learn about another great way to earn with Chaturbate.
The LiveJasmin and Chaturbate affiliate programs explained
If you're a fan of cam sites like LiveJasmin and Chaturbate, you've probably been looking for an affiliate program to join. You want to promote these sites because they are the best of the best camming platforms. But which one is right for you?
We'll talk in-depth about how both platforms can help you, as an affiliate or even a webcam model, make money without getting on a webcam.

The LiveJasmin affiliate program
LiveJasmin has an affiliate program available. Web admins and models can use the affiliate or referral program. It is done via AWEmpire and allows you to use multiple promotional tools. You can earn money via sing-ups, either for models or webmaster referrals.
Ways to earn money via the referral program
Pay-per-Signup (PPS)
Depending on how many members you refer, you'll earn a different amount. For instance, referring one or two members will make you earn $150. The maximum payout is $300, which is obtainable after referring about 50 people or more.
Revenue-Share
Depending on how much money the models and webmasters referred to the website maker, you will earn a different amount of money. You will be able to earn from forty to sixty percent. It makes it possible to start earning money even after you've referred those people and if they continue to use the website. It works with a tiered system.
Chaturbate affiliate program
Referring members
By referring members, you can either earn $1.00 USD per sign-up or a 20% revenue share for every dollar they spend. Most users of the affiliate program opt for revenue share as opposed to the per sign-up as the potential payout if a whale sign up is much greater.
A whale is a big spender who spends a lot of money on the platform and, in turn, makes you more money.
Referring broadcasters
This is another way to make money promoting Chaturbate. If you refer a broadcaster that earns at least $20, you will be paid $50 from Chaturbate. No matter what link type they use to sign up, this is a part of the package.
Referring webmasters and other affiliates
This is the 3rd way you can make money promoting Chaturbate. If you refer another affiliate or webmaster to the Chaturbate affiliate program, you'll earn 5% of whatever they make for a lifetime. This is a great way to earn that coveted passive income.